We are close to launching a brand new product, and we want to give a you quick preview here.

Showkase is a web application that lets you easily build stunning image portfolio websites from scratch. Juicebox and SimpleViewer are great image gallery solutions, but they require you to build the website that contains them. Now with Showkase we offer a tool to build the entire website including the image galleries, page navigation, and additional pages.
Showkase Sites
View an example of the kind of site you can easily build with Showkase. This demo uses the included 'Kosel' theme and Juicebox for the image galleries.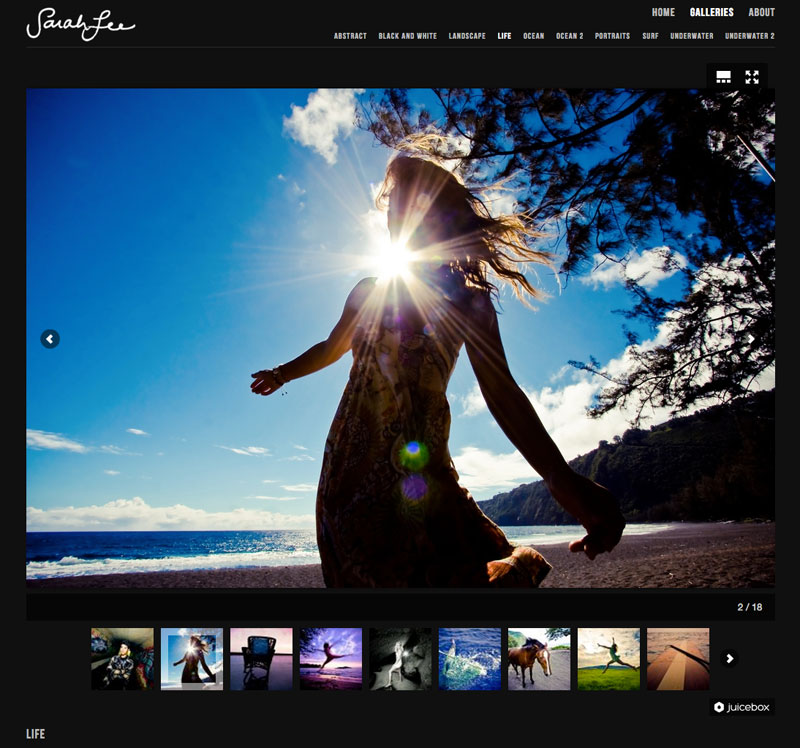 Out of the box, Showkase comes with 3 customizable themes that offer different site layouts. Showkase also supports 3 image gallery types: Juicebox, SimpleViewer and what we are call 'List Gallery', which is a simple vertical scrolling list of images.  Here is another Showkase demo that uses the 'Boma' theme and the 'List Gallery'. Showkase includes the 'lite' versions of Juicebox and SimpleViewer and can be upgraded to use the Pro versions by customers who have purchased those versions.
All Showkase sites are fully responsive, meaning that they will work on desktop, tablets and smart phones. Showkase generates light-weight, static HTML pages which means you get faster page loads than a typical database driven website (e.g. WordPress).
Showkase Admin
The Showkase Admin user interface is designed to be powerful and easy-to-use. No coding is required. Drag and drop images to have them be uploaded, resized and added to a gallery. Showkase is built specifically for image portfolio websites, and has powerful image management tools built-in.
Below is a screen grab of the Showkase gallery image panel. Easily enter image titles, captions and link URLs. Drag and drop to change image order.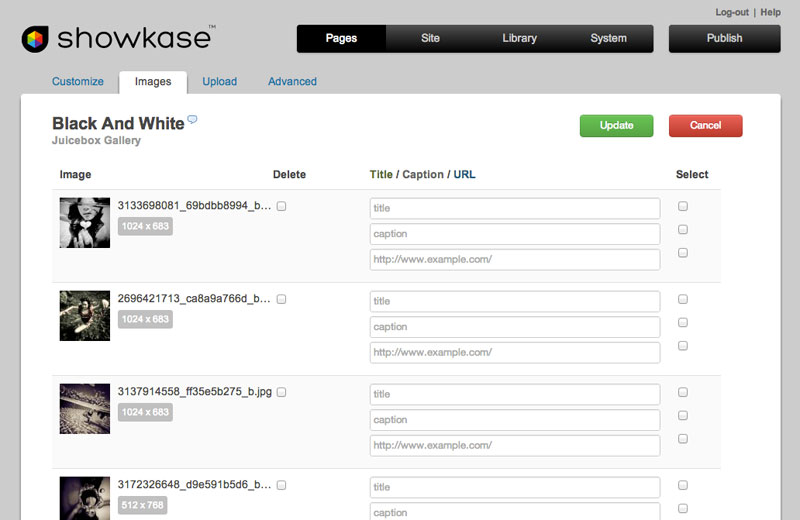 Showkase is super simple to setup. No database required. Just upload the files and click the 'Setup' button. Showkase is a one time purchase which gives great value for money compared to hosted services which require monthly fees. Showkase is not a hosted service, which means you retain control of your files on your server. Create an unlimited number of galleries, images and pages.
Showkase will be launched in the next few weeks. Subscribe to the Juicebox mailing list or twitter feed below to be the first to know!